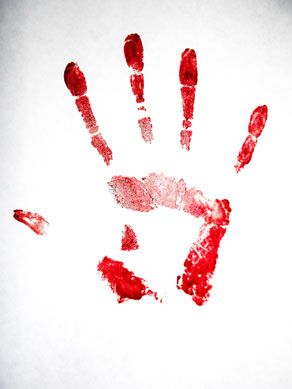 I am sure anyone who has tried to get something printed has been asked this question. Whether it is a business card, brochure, flyer or poster, the same question will be asked. Does it bleed?
For those who are not in the printing world this question can seem rather odd. With Halloween right around the corner it would not be surprising if you are now picturing your gorgeously designed business card seeping with blood like a scene straight out of Saw.
I assure you this is not the printer's intention. Asking if a piece bleeds is actually a very simple non-gory question that you should consider every time you are creating a printed piece.
If a document bleeds, the color runs to the absolute edge of the page. For the printer it means they will need to use a larger sheet of paper and cut it to size. This comes with a price tag.
Although there is a price difference, it's extremely minuscule, So don't be overly concerned about some big price tag. Just keep it in mind the next time you are doing a design.
Now when your printer asks you if the document you are looking to have done bleeds you can answer the question with no fear of nightmares!
Happy Halloween!